Art and Crafts
The Craft Markets
I know Africa is famous for its crafts; people in America love to collect African art of all types. My parents have dozens of items given to them by their many African friends, and people will visit Africa and spend a fortune buying and shipping these precious works of art back to the states. Even having grown up around African art all my life, I was in awe of the beautifully crafted wooden sculptures, colorful art, beautifully hand-woven fabrics and jewelry. The craft markets can be found all over The Gambia and Senegal. A craft stand may be part of a huge market or just a single hut on the street, or just someone sitting on a carpet along the curb displaying his or her items. Many of the items may be similar in each store, but the craftsmen are usually right there creating them, so you know these things are not mass produced in some factory. The world is right to love the artwork, because making and selling these things is not just a hobby to the people; it is their livelihood, and in many cases, the only income a family has. I empathized with them for wanting to get top dollar, but we still did some heavy negotiating for the few items we bought. They are used to the rich Europeans coming through, not cheap Americans like me. I left hoping they would make it up on their next customer. Be sure to click on the pictures for a closer look, and use your browser's "back" key to return to the page.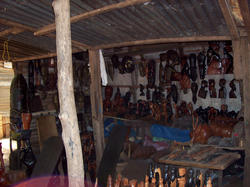 There are hundreds of little craft huts like this scattered all over the country.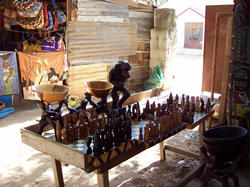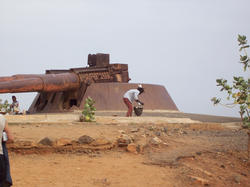 This guy is making a drum. He's up on Goree Island off the coast of Dakar. His other items are in the picture above on the right. More about Goree Island later.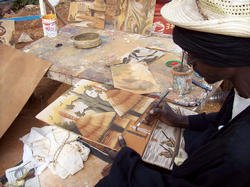 This artist did all the works in the previous picture (above right). Here he is showing us in great detail the art of sand painting. His work was beautiful.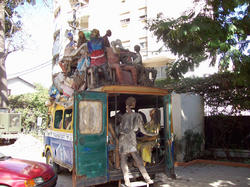 The artist has captured perfectly how the people are crammed on these buses.
Everywhere I went I could only capture on film a tiny fraction of what I saw all around me. I can't wait until my next visit so I can add to this collection of pictures.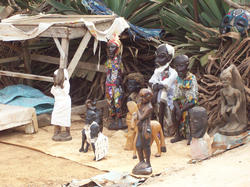 People often set up their crafts in high traffic areas, but you'll also find them in out of the way places.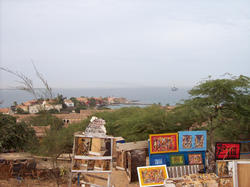 See that brightly colored painting in the middle? We almost bought that one for 30,000 francs. That's about $15 in the U.S. Many artisans create in several different forms of art, including carvings, oil painting, weaving, and more.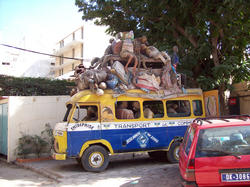 This is in the French Arts and Cultural Center in Dakar. It is a sculptor's rendition of the local transportation. I took many rides on these buses and they look just like this.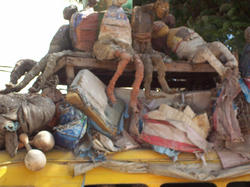 But they usually just put the animals and luggage on top.